I2C, SPI Pressure Sensor Introduction:
I2C, SPI pressure sensor and transducer is based on piezoresistive silicon pressure sensors packaged in a 316L stainless steel housing. The pressure sensor supports I2C and SPI interface protocols, may come in a 3.3 or 5.0Vdc supply voltage.
The sensing package utilizes silicon oil to transfer pressure from the 316L diaphragm to the sensing element. I2C SPI pressure sensor is designed for o-ring mounting. The pressure transducer is suitable for applications where compatibility with corrosive media is required.
A custom ASIC is used for temperature compensation, offset correction, and provides a digital output of 10~90% or 5~95%. The circuit exceeds the latest heavy industrial CE requirements.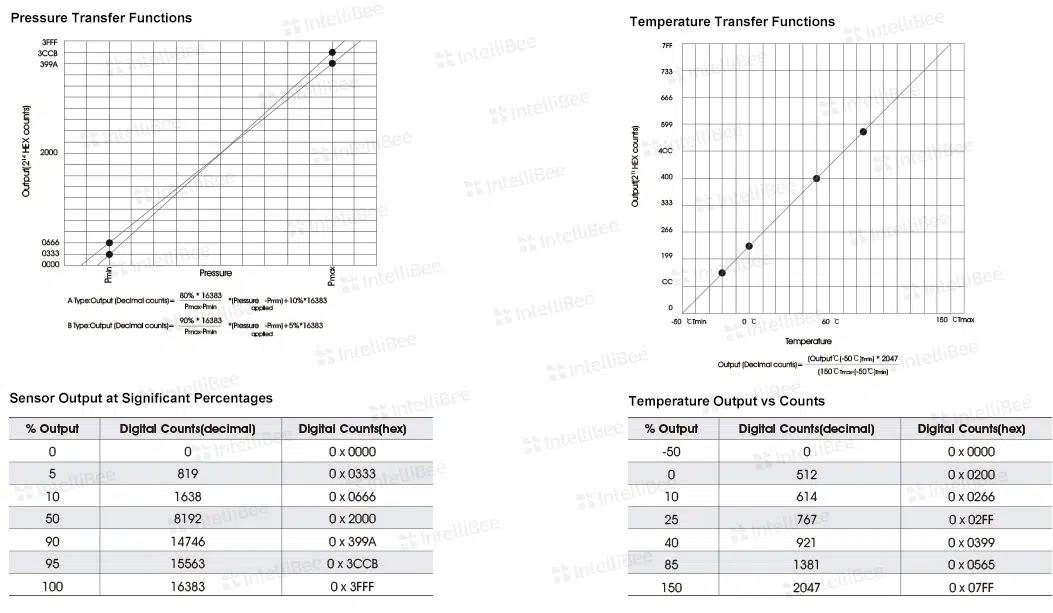 Features:
Applications:
* Low cost OEM
* Pressure range:0-10Kpa…35Mpa
* ±0.5% Total Error Band
* Compatible with corrosive media
* Standard mounting size
* I2C or SPI Interface protocols
* Process control
* Fresh and waste water measurements
* Medical instruments
* Pressure transmitters
I2C, SPI Pressure Transducer Dimensions:
I2C, SPI Pressure Transducer Video:
Technical Parameter:
Supply Voltage: 3.3Vdc
Ambient Temperature: 25°C (unless otherwise specified)
Parameters
Min.
Typical
Max.
Notes
Interface Type
I2C(ADDR,0X28H)
SPI (optional)
Accuracy(%FS)
-0.1
±0.05
0.1
combined linearity, hysteresis and repeatability.
Total Error Band(%FS)
≤100Kpa
-1
±0.5
1
includes calibration errors and temperature effects over the compensated range.
>100Kpa
-0.5
±0.3
0.5
Output Type
10% — 90% (A type)
5%-95%(B type) Optional
Zero Pressure Output
666
Count Hex
Full Scale Pressure Output(FS)
399A
Resolution–Pressure(%FS)
0.008
14bits
Temp. Accuracy(℃)
-2
2
over the compensated temperature
range
Resolution–Temp.(℃)
0.1
8~11bits
Operating Temp.(℃)
-40
125
Compensated Temp.(℃)
﹤40Kpa
0
50
≧40Kpa
-10
70
Input Voltage(V)
2.7
3.3
5.5
Current
consumption
Non-Sleep
2.7mA
default (See Note1)
Sleep mode
2µA
optional
Load Resistance(KΩ)
10
Insulation Resistance(MΩ/50V)
50
Response Frequency(HZ)
2K
Pressure Range
0-10Kpa…35Mpa
See ordering information
Overpressure
7Mpa
1.5X
Others except 7Mpa
2X
Media–Pressure
Liquids and gases compatible with 316L Stainless Steel
Note1: Reduce response frequency can reduce the current consumption accordingly,Pls. contact factory if you want this option.
CE Compliance:
EN55022 Emissions Class A&B
IEC61000-4-2(ESD): 8KV(air)/6KV(contact)
IEC61000-4-3 Radiated, Radio-Frequency Electromagnetic Field Immunity (3V/m, 80MHZ~1GHZ)
IEC61000-4-4 Electrial Fast Transient Immunity (1KV)
IEC61000-4-6 Immunity to Conducted Disturbances Induced by Radio Frequency Fields(150KHZ~80MHZ 3V Level)
IEC61000-4-9 Pulse Magnetic Field Immunity (100A/m Peak)
Ordering Information:
Ordering Information
Model
Description
ACD11
Diameter 19mm O Ring mounting
Code
Pressure Range
Gauge
Absolute
10K
0-10Kpa
*
40K
0-40Kpa
*
100K
0-100Kpa
*
*
160K
0-160Kpa
*
*
400K
0-400Kpa
*
*
600K
0-600Kpa
*
*
1M
0-1Mpa
*
*
1.6M
0-1.6Mpa
*
*
2.5M
0-2.5Mpa
*
*
4M
0-4Mpa
*
*
7M
0-7Mpa
*
*
10M
0-10Mpa
*(Sealed Gauge)
20M
0-20Mpa
*(Sealed Gauge)
35M
0-35Mpa
*(Sealed Gauge)
XX
Special
Code
Pressure Reference
A
Absolute Pressure
G
Vent Gauge Pressure(W/O vent tube as default)
S
Sealed Gage
Code
Electrical
1
Connect Pins
2
Ribbon Cable(90mm as default)
Example:
ACD11
600K
G
2
Model:ACD11-600K-G2
19mm Sensor
0-600Kpa
Vent Gauge
Ribbon Cable